I've been a full-time freelancer since 2013, which is great, except for when it comes to applying for loans. Self-employed folks tend to look riskier to lenders, thanks to fluctuating income. This year, I wanted to buy my first car, so I needed to figure out how to get a car loan when you're self employed.
Great news: YES, it IS possible to get a car loan when you're self-employed and only have 1099 income. I did it by applying through my small credit union and giving an average of my last six months of income (because my income fluctuates each month as a freelancer, I gave an average, which my loan officer said was fine!).
How to Get a Car Loan When You're Self-Employed: The Summary
I applied for a car loan online through my small credit union and was pre-approved for a $14,000 loan for up to 66 months at an APR of 3.49%.
For my income, I gave the monthly average of my last six months of income.
For my employer, I put that I was self-employed, and I put the name of my LLC.
I was NOT asked for income verification. They gave me the full amount without needing any documents showing my income.
After I found the car I wanted to buy, I had to submit the information (make, model, year, VIN number, price) to my loan officer at the credit union.
The underwriters then had to review my information to formally approve my loan.
Then, I signed the loan contract and my loan officer mailed a check to the dealer.
After showing the dealer my approval letter and proof that the check had been mailed and was on its way, they let me take the car home (same day).
How to Get a Car Loan When You're Self-Employed: The Details
Monday, Apr 19, 2021 12:23 PM
I submitted my online application and received an automated email that it was under review.
Monday, Apr 19, 2021, 5:32 PM
I received an email that I had been pre-approved!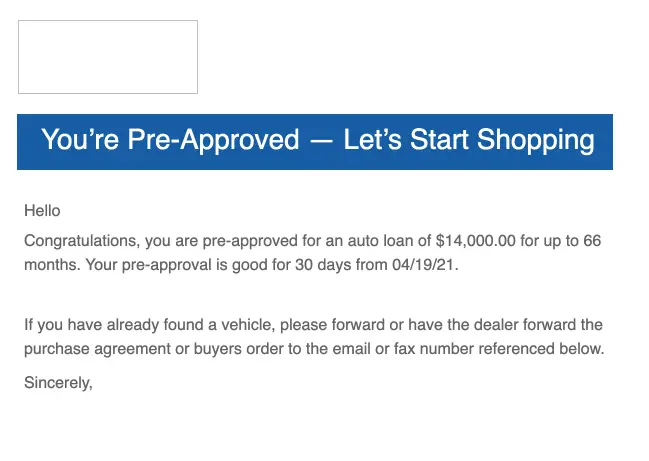 Friday, April 23, 2021
Signed the dealer papers on the car I wanted, signed the loan contract with my credit union, and had the credit union email proof of the physical check it was mailing to the dealer via FedEx 2-day mail. Because the dealer received proof that the money was on its way, he let me take my car home! Yes, I thought it was weird that there had to be a physical check involved, but it depends on your financial institution. Mine could not wire money over, and because it's a local credit union located more than 7 hours away, I couldn't just pick up the check and bring it to the dealer.
What Does It Mean to Be "Pre-Approved"?
When you're financing a car purchase, you have two routes:
Wait until you find the car you want and then apply for a loan.
Get a preapproval showing how much money the bank/credit union will let you borrow, and THEN go shopping for a car with the preapproval letter in hand.
When you're pre-approved, that means you haven't really found a car you want yet. You just know you want a car, and you want to see AHEAD OF TIME how much money you have to spend (the loan amount). The bank/credit union will approve you for a certain amount, and once you know that, you can go shopping for your car. When you find the car you want, the bank/credit union then has to review the information and formally approve you for a loan specifically for that car.
What Happens When You're a First-Time Car Buyer: Loan Stipulations
If this is your first time ever asking for a car loan, you will likely have stipulations placed on your loan. For example, even though my credit union pre-approved me for a car loan, they told me the car I ended up buying HAD to be:
2014 or newer
Up to 75,000 miles
IF my chosen car fell outside of those stipulations (which it did), I would have to talk to my loan officer about it, and she would have to submit the information to the underwriters and see if they approved it. I ended up buying a 2015 Prius (so it met the "2014 or newer" stipulation), BUT it had 95,000 miles on it—well above the "up to 75,000 miles" stipulation. I told this to my loan officer, she submitted it to the underwriters, and they approved it within a couple of hours.
My pre-approval was good for 30 days. That meant I could spend 30 days shopping for a car. They also told me that they would finance up to 100% of clean NADA retail. To find out what that means, just go to the NADA website and enter your vehicle information.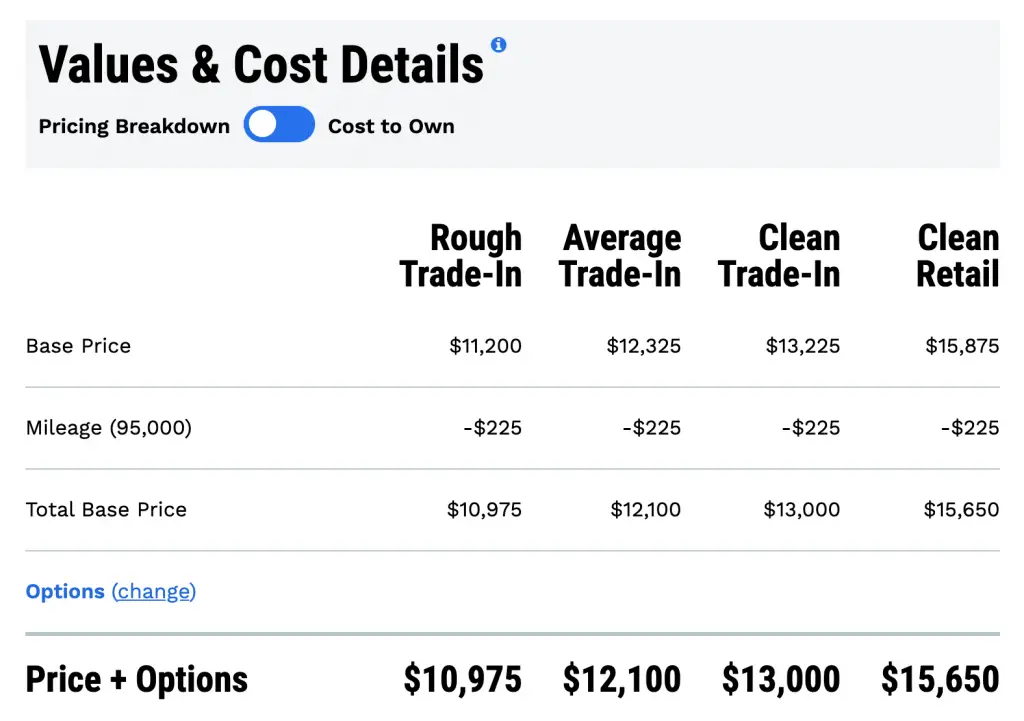 How to Get a Car Loan When You're Self-Employed: My Best Tips
Go through a small credit union, NOT a big bank
Big banks are impersonal and can be harder to please. With a credit union, especially one you've been a member of for years, you get personalized attention, and people can really advocate on your behalf.
Meet a loan officer in person or talk to them on the phone about your unique situation
MEET your loan officer first and get on their good side! When I was filling out my loan application, I called the credit union and asked to speak with a loan officer. She was able to give me great tips about how to fill it out. She even suggested that I apply for their longest term (66 months) instead of the 36 months I was originally going to apply for because BOTH lengths had the SAME APR, but at least with the 66-month one, if I had a financial crisis, my minimum monthly loan payment would be much lower and would give me some relief.
Don't apply for a car loan you can't afford
Remember, when you're applying for a loan, underwriters will assess your risk profile as a borrower. They wanna know: Can this person actually pay back this loan? They do NOT want to give money to someone who seems risky. So it's in your best interest to be honest with yourself: How much car can you actually afford? Can you afford to pay off this loan? Be modest. The smaller the loan you need, the lower your risk, and the more likely you'll get approved.
If you get rejected, try applying again with a cosigner
My credit union's auto loan application had two options: individual or joint. If you use a joint application, you can apply with someone else's income. So if your spouse or parent is willing to cosign, your application can look way less risky, especially if the cosigner has a W2 job with steadier income than being self-employed.
Apply to MULTIPLE lenders within 2 weeks
I know you're worried about hurting your credit score with hard inquiries (which auto loans are), BUT here's the thing: As long as you apply for auto loans within two weeks, it only counts as ONE hard pull!
Don't believe me? Here is what Experian (one of the three federal credit bureaus) has to say about it:
"Lenders know that multiple applications for a car loan within a short period of time indicate you are shopping for the best terms, not buying multiple cars. Scoring systems have been designed to reflect that reality.

Therefore, as long as the inquiries were all made within a certain period of time, usually 14 days but sometimes longer, they are counted as just one when calculating your score."

Experian.com
So go ahead and apply to a handful of lenders! That way, you can shop around for the best APR, AND you can increase your chances of getting approved by someone. I recommend applying through a small credit union and then applying through the finance department at the dealership (they'll submit your application to multiple lenders). Remember, do this within TWO WEEKS.