Oh, sweet, sweet retainer agreements—the brass ring of the freelancing world! Once you've been freelancing for a few months, it's time to upgrade those client relationships to retainer ones. Freelancers love retainer agreements because they promise steady monthly income. Clients love them because they can lock in a discounted price and a freelancer they love for a long-term relationship.
So how can you snag this coveted client work relationship? I'll break down all the steps for you below.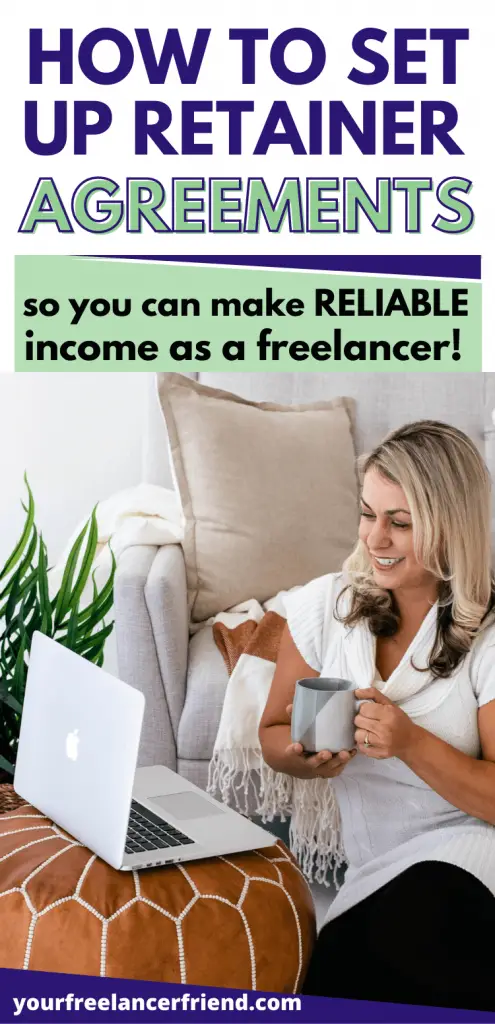 What is a retainer?
Popularized by lawyers, a retainer is a contract wherein a client retains your services on a monthly basis by paying a fee in advance. In the legal field, companies and private individuals often retain lawyers when they think they're going to need to have one on hand, but they're not sure exactly when.
A retainer typically guarantees:
A long-term client relationship
A monthly upfront lump sum. For example, they pay you $1,000 on September 1st to retain your freelance services for the entire month of September.
A certain number of hours or deliverables
That your retainer client will be a PRIORITY over your other clients (more on that later)
It differs from a regular contract or a salary because of its advance nature—a retainer client pays you a retainer fee before you do the work. It differs from a deposit because a deposit is a partial payment before you begin work; a retainer fee is full payment before you begin work.
How do I structure a retainer?
Typically, retainers are structured in one of two ways:
Your retainer client essentially "pre-buys" a set number of hours for the following month.
Your retainer client pre-buys specific deliverables to be delivered in the following month.
Should I roll over hours to the next month?
It is common for freelancers to allow their retainer clients to "roll over" unused hours from one month to the next one, but I do not recommend you do this. Here's why:
It becomes very complicated to keep track of unused hours and rolling them over.
It encourages your client to become lax and not give you enough assignments to use up those hours. You want them to be incentivized to use up their hours by giving them an end-of-month expiration date.
Why would my client agree to a retainer?
Retainer agreements are desirable to clients too! Here's why:
Typically, freelancers offer a "bulk discount" if a client will enter a retainer agreement. So, for example, if a client were to sign a retainer agreement for 3 months minimum and essentially pre-buy 3 months' worth of a freelancer's time, they might get a 15% discount on the freelancer's typical rates.
Retainer clients get priority over one-off clients. So if a client pays you a retainer fee to design their marketing collateral, they should get a faster turnaround time than someone who is only hiring you for a one-time project. (Of course, you should still deliver on-time for all your clients. But when possible, finish the retainer client's work first.)
Retainer clients ensure that they get you before you are booked out.
Fixed costs are much more predictable.
They can "lock in" their favorite freelancers.
Retainer advantages for freelancers
Comfort of knowing you have guaranteed set amount of income every month
Long-term client relationships, instead of having to chase new leads every month
Lower admin work since you won't have to constantly onboard someone new. As you work with your retainer clients and get to know them and their work better, your work should become faster.
Retainer disadvantages for freelancers
Because of its longer-term commitment, it can start to feel like retainer clients are your "boss." It can start to feel like a regular job again, where you lack variety.
It can be inflexible. Usually, retainer agreements are pretty predictable, since both you and your client want a fixed fee and set amount of work. If you, for whatever reason, want to change that, your client might not be too happy with it. It's not impossible, though, so if you want to make an adjustment to the retainer's scope or fee amount, just talk to your client about it. I've done this before successfully!
How do I get my client to agree to a retainer agreement?
I wouldn't recommend springing a retainer agreement on a brand new client. What I like to do is do one short-term project with a client, do an excellent job on it, and while they're basking in the glow of a successful project, float them the idea that we could work together long-term on retainer.
Examples of retainer agreements I've had
Fixed monthly fee (retainer fee): $1,000
Hours: 20 to be applied toward writing copy and press releases (hours did NOT roll over)
Fixed monthly fee (retainer fee): $2,500
Deliverables: This one was weird in that it was very open-ended. My client agreed that I didn't need to list out every deliverable, as it would change a lot since I was essentially his marketing department. We agreed that I would handle all things marketing for the startup (Twitter, Facebook, email newsletters, and press releases) for that fee. We were very open in communication with each other, so if it ever became too much for what I was getting paid (scope creep), I could've spoken up, but it never did.
Retainer agreement samples
You can find retainer agreement samples and templates online for FREE. Of course, you should modify these to fit your needs, and I always recommend hiring a lawyer to review the agreement before you start sending it out.
#1 Docsketch free retainer agreement
#2 PandaDoc retainer agreement template
#3 Bonsai monthly retainer agreement
#4 ApproveMe free retainer agreement template
Now, go try to land a retainer agreement!
If you already have clients who love you, why not negotiate a retainer agreement with them so they can work with you long-term?
Let me know how it goes in the comments below!