In early March, due to COVID-19's economic impact, two clients let me go and one client slashed their budget. When it was all said and done, I lost about $3,600 of monthly income.
As much as I love being a freelancer and while I remain a staunch advocate for freelancing, the past month has been a reminder of just how precarious our jobs are as independent contractors.
While laying off or firing an employee takes considerable effort, freelancers can be let go with nothing more than an email—and no severance package to boot.
If you're in a similar situation: I am sorry. I feel your fear and frustration. We will get through this.
I feel the best thing I can do for you right now is to compile the most comprehensive list of financial relief and other resources for freelancers affected by this pandemic.
Below are 39 resources so you can get help as a freelancer—whether that's with finances, business education, or mental health. These will mostly apply to people in the U.S.
So if you've lost work due to the COVID-19 crisis, I hope this helps.
Government-Provided Financial Relief for Freelancers
#1 Freelancers can now apply for unemployment benefits
To understand your options as a freelancer hit hard by this crisis, you need to be aware of this: In March 2020, in response to the economic impact of the COVID-19 pandemic, Congress passed an unprecedented, significant bill known as the CARES Act (Coronavirus Aid, Relief, and Economic Security Act).
One of the provisions of the CARES Act is that self-employed individuals (freelancers) can now apply for unemployment insurance. In the past, this was available only to employees who had been laid off by their employers.
Yes, this is a BIG deal. But I must begin this with a BIG caveat: Many freelancers are reporting immense difficulty receiving unemployment benefits because it varies by state and the state governments are not accustomed to processing applications from freelancers. So yes, you need to contact your individual state, and you must be prepared to face even more bureaucratic red tape.
For more information on how you can get unemployment benefits as a freelancer during this time, visit your state's unemployment website either by:
Googling "[your state] unemployment benefits"
Visiting CareerOneStop and selecting your state from the dropdown menu.
Lastly, you can review The Small Business Owner's Guide to the CARES Act (PDF).
#2 The federal income tax deadline has been EXTENDED to July 15, 2020
Both the federal income tax return to the IRS and the first quarter of 2020's estimated tax payment have been extended to July 15, 2020. That means you will NOT be penalized in any way so long as you file your tax return and pay by July 15.
HOWEVER, state income tax deadlines were left up to each individual state, so check with your state to see when the deadline will be this year. As of April 14, 2020, ALL states have extended their income tax deadlines past April 15, but check here to see every state's new 2020 tax deadline.
#3 The federal government is sending stimulus money to qualifying individuals—MOST Americans qualify!
As part of the CARES Act, the federal government is sending up to $1,200 to individuals and up to $2,400 to married couples filing jointly who meet the following criteria:
You are NOT listed as a dependent for another taxpayer
You have a Social Security Number
In 2018 or 2019, your adjusted gross income was up to

$75,000 as an individual
$112,500 for head of household
$150,000 for married couples filing jointly
You will get a REDUCED stimulus check if your AGI is between:
$75,000 and $99,000 if single or married filing separately
$112,500 and $136,500 if head of household
$150,000 and $198,000 if married filing jointly
Beyond that AGI, you do NOT qualify for stimulus money.
"But how do they know what my AGI is?" The IRS will base your stimulus check money on your 2019 tax return—OR, if you have not filed for 2019 yet, they will base it on your 2018 tax return.
For full details, visit the IRS Economic Impact Payment Information Center
As of April 14, 2020, some people have already received direct deposits of their stimulus money—but not everyone has!
To check the status of your stimulus check and/or update your direct deposit information, visit the IRS Get My Payment webpage.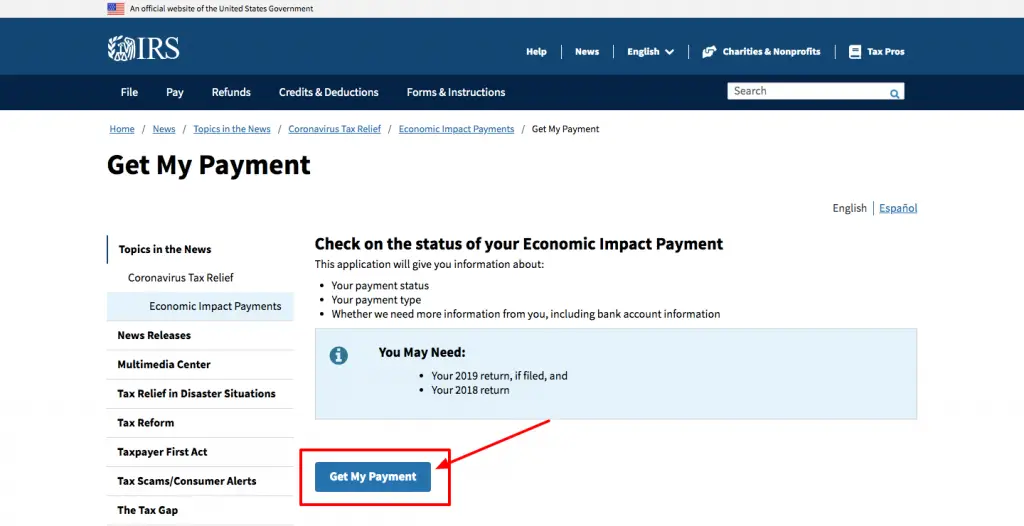 For anyone who qualifies but doesn't opt for direct deposit, stimulus checks will be sent to them via mail.
It is said that more than 80 percent of Americans qualify for this stimulus money, so there's a good chance you do!
#4 By law, you might be able to temporarily defer your rent payment AND avoid eviction
Another benefit arising from the CARES Act is that if you are a tenant in a federally-backed building, you cannot be served an eviction notice until July 25, 2020. You must still pay rent; your landlord just can't evict you in the meantime (until July 25).
Learn more about CARES Act rent relief
#5 Have federal student loans? You may be off the hook temporarily
If you have federal student loans, you may not have to make payments until September 30, 2020 (and interest will not accrue in the meantime).
Learn more about CARES Act student loan forbearance
#6 If you're a homeowner, you might qualify for mortgage relief
Under the CARES Act, if you're a homeowner who lost income due to the COVID-19 pandemic, you may qualify for reduced or suspended mortgage payments for up to 12 months.
Get more details on CARES Act mortgage forbearance
#7 The Small Business Administration (SBA) is providing assistance
The SBA is offering financial assistance such as:
Economic Injury Disaster Loans of up to $10,000
Debt relief
Learn more about the SBA's coronavirus relief options
Private Sector Financial Relief
#8 Many credit card companies are providing payment relief
During this time of financial constraints, many of us are unfortunately turning to credit to be able to buy things. If you are unable to make your credit card payments, it's worth asking your bank if they'll allow you to delay payments without being penalized. This depends on the bank.
For example, Chase is offering some of its clients a relief program where they let you delay 3 monthly payments—but you MUST apply and be approved first. Also, keep in mind that while this allows you to delay payments (meaning your credit report won't get hit with a nasty "missed payment" penalty), it does not mean you won't be charged interest. You will still owe interest on any outstanding balances while you wait to pay your credit card off.
#9 Check with your bank or local credit union
Many local banks and credit unions are offering financial relief to their clients. Call your local branch and ask if they offer loan deferments, mortgage assistance, credit card payment relief, overdraft fee waiving, or anything else that can help you.
I've found that all the institutions I bank with (including Ally) are offering something due to the COVID-19 crisis, so it's worth a shot! Even if they're not openly advertising it, your bank may be able to work something out with you privately.
#10 Google "rent assistance in [your city]"
Many local churches and even local housing authorities provide rent assistance to residents. It's impossible to list them all here, so I recommend Googling "rent assistance in [your city]" or "financial assistance in [your city]."
#11 Participate in peer-to-peer wealth distribution on Leveler.info
Dubbing itself as peer-to-peer wealth distribution, Leveler allows anyone to submit their story and Venmo or PayPal information to ask their peers to donate to them.
Private Funds to Provide Financial Relief to Freelancers
#12 Freelancers Union Freelancers Relief Fund
*Note: As of April 14, 2020, applications for the Freelancers Union relief fund are TEMPORARILY CLOSED due to an overwhelming number of applications. They may reopen applications, though, so I will leave this info here.
This fund will provide up to $1,000 per household.
Eligibility requirements:
Be a freelancer who primarily resides in the U.S.
Experienced a sudden decrease of at least 50% of income as a direct result of the COVID-19 pandemic.
Provide supporting documentation to show income loss.
Apply for the Freelancers Union Relief Fund
#13 Freelance Co-op Fund
*Note: As of April 14, 2020, applications for this fund are CLOSED due to an overwhelming amount of applications. However, I am keeping this info here in case they reopen the fund or in case you'd like to contribute to it.
This fund supports creative freelancers negatively affected by COVID-19 and the resulting public response.
Learn more about the Freelance Co-op Fund
#14 Facebook COVID-19 Fund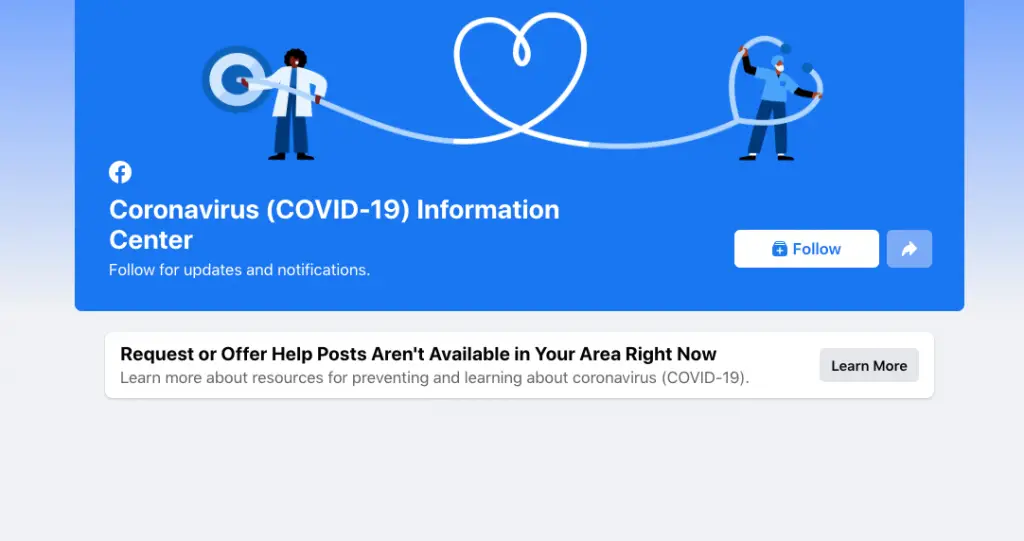 In some locations, Facebook offers COVID-19 support. Just go to facebook.com/covidsupport to see if anything is available in your area.
#15 Tailwind $1M Small Business Relief Program
Software company Tailwind has put together a $1 million fund to help small businesses negatively impacted by the coronavirus pandemic. Note: Tailwind is NOT offering cash; instead, it's offering FREE access to its social media scheduling software for 3 months to help you grow your business during tough economic times.
Eligibility requirements:
A business with fewer than 100 employees
Negatively impacted financially by the spread of COVID-19
Yes, freelancers are eligible!
Deadline to apply: April 30, 2020
Apply for the Tailwind Small Business Relief Program
#16 National Geographic Society's Emergency Fund for Journalists
Want to report on COVID-19 within your community? National Geographic is providing funding to do so, and it's open to writers, photographers, videographers, audio journalists, cartographers, filmmakers, and data visualization experts. The fund will give support from $1,000-$8,000 for local coverage of the pandemic.
Deadline: Applications accepted on a rolling basis
Apply for the National Geographic Society's Emergency Fund
#17 International Women's Media Foundation COVID-19 Relief Fund
This fund can provide up to $2,000 of small grants to women-identifying journalists who "have faced significant financial hardship, lost work, were recently laid off or who urgently need assistance to avoid severe, irreversible outcomes." The emphasis is on "urgently."
Their application website states: "If your situation is not urgent, we urge you NOT to apply to this fund. We have limited staff capacity to review applications. Please do not delay help to your peers in need by submitting a request that is not urgent. We are all in this together. Be there for your peers so we can be there for all you."
Apply for the International Women's Media Foundation fund
#18 Authors League Fund
Support from the Authors League Fund is available to "career writers with a substantial body of work." For full details, visit the webpage, linked below.
Apply for the Author's League Fund
#19 PEN America Writers' Emergency Fund
PEN America will provide grants of $500-$1,000 to writers who can display an acute financial need, especially if it's a result of the COVID-19 outbreak. Their website states you should hear back within 14 days of applying.
Eligibility requirements:
U.S.-based professional writer
Able to demonstrate emergency situation that needs money
Apply for the PEN America Writers' Emergency Fund
Charities Providing Assistance
#20 Catholic Charities
Even when there isn't a pandemic going on, Catholic Charities provides rent, utility bill, and food assistance. Contact your local chapter of Catholic Charities (a Google search will do) to see what you need to submit to apply. (And no, you do not need to be Catholic to seek assistance from Catholic Charities.)
#21 The Salvation Army
The Salvation Army also offers rent, utility, and food assistance.
#22 United Way
Do a Google search for your local United Way chapter to see if they can provide help to you. In some chapter websites, you can do a live chat to see what your options are.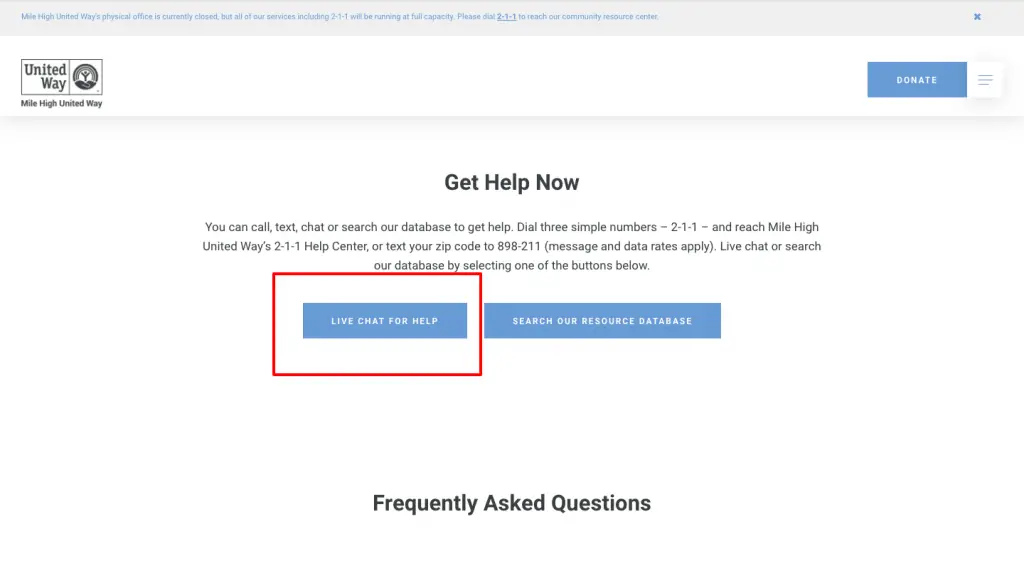 #23 Call 211
If you dial 211 on your phone, you can reach a trained professional who can connect you with available resources for financial assistance. You can dial 211 to get help with housing, food, healthcare, and finances. But if you have a medical emergency, of course, please call 911!
Free Business Resources for Freelancers
#24 Teachable is offering select premium courses at no cost for a limited time
This includes popular courses such as:
Check out all of Teachable's free online courses
#25 Scribd is offering a free 30-day trial of ebooks and audiobooks
Spend this time sharpening your skills and doing research with a host of books in Scribd's online library.
Get Scribd's free 30-day trial
Mental Health Resources
#26 BetterHelp is offering financial aid to those who need therapy and have been financially impacted by COVID-19.
BetterHelp is an online therapy service with trained, professional counselors. Right now, they are offering discounts to those who need the service but can't afford it due to COVID-19 financial struggles. You can get 50% off your first month of counseling, and beyond that, if you need further financial assistance, you can reach out to the company about it.
#27 Florida Blue is offering free counseling to members stressed about coronavirus
Below is the email I got from them. You can learn more about the free counseling via Florida Blue's website. Even if you're not a Florida Blue member, check with your health insurance company to see if they are offering something similar.

#28 Yale's famous happiness course is available online for FREE
For a limited time, you can take Yale's famous happiness course online via Coursera.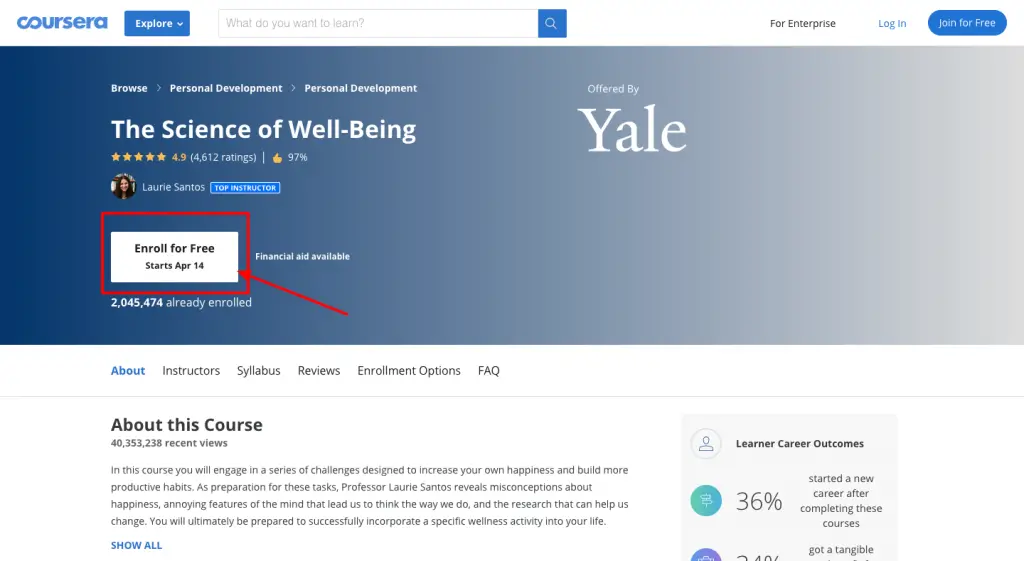 #29 Need someone to talk to? On 7Cups, you can talk to a trained active listener for free.
Just need to vent to someone who will listen? Try 7Cups. It's completely free. Keep in mind it is not officially therapy (though you can pay extra for that!), but rather, it's everyday people who have been trained as "active listeners."
#30 In Crisis? Text 741741
You can text 741741 if you're in crisis and don't feel like talking on the phone.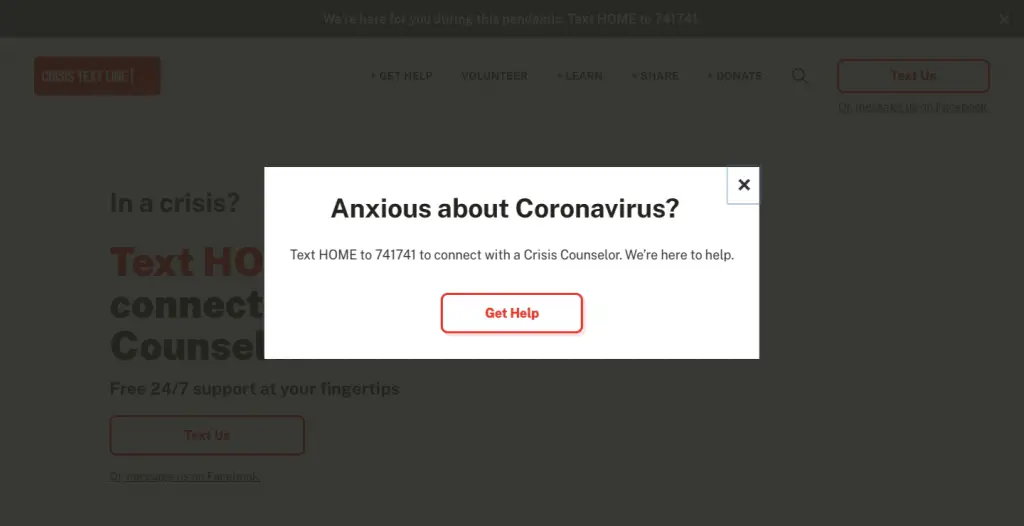 #31 Struggling with thoughts of suicide? Call 1-800-273-8255 for free help in the U.S. 24/7
There is help. The National Suicide Prevention Lifeline is available to you 24 hours a day, 7 days a week and provides free and confidential support for anyone. Call them now at 1-800-273-8255.
**Are you in immediate danger? Please call 911!**
If you or someone you know is in immediate danger of harm due to suicidal thoughts or other health issues, please call 911 or go immediately to the nearest emergency room.
Additional Tips to Survive This Economic Crisis as a Freelancer
#32 Cancel any subscriptions that are not absolutely crucial.
It's up to you to decide what is "crucial" for you. I'm not judging anyone who decides they need Netflix to stay sane during quarantine. But if there's any expense that can be cut right now—cut it.
#33 Keep pitching!
Yes, clients are still hiring. In fact, the same week that I LOST two clients I gained two more. If you've lost clients, there's still a chance to get more clients, even during a crisis.
#34 Reach out to former clients.
If you did a great job for a client before, send them an email to ask them if they have need of your services right now.
#35 Freshen up your LinkedIn profile.
My two recent clients found me on LinkedIn—I wasn't even looking! Update your profile to include keywords and to show what you SPECIALIZE in. Now is not the time to be broad and vague.
#36 Update your website and portfolio.
Revisit your website and add any new portfolio pieces that you haven't yet put up. Make your calls-to-action strong and make it easy to contact you.
If you tried all of the above and STILL can't pay rent or bills:
#37 Call your landlord and let them know.
Due to new laws, it's unlikely that they can evict you during this crisis (and they might not even want to). You'd be amazed at how understanding people can be. Tell them you will pay what you can this month, then work out a payment agreement that allows you to defer rent temporarily.
#38 Call your creditors and work out payment plans.
Even in non-pandemic times, the worst thing you can do is ignore a creditor's phone call. Answer the phone (or give them a call) and explain your situation. They would MUCH rather work out a payment plan with you than never hear from you and have to send your case to collections.
#39 Call your utility company and see what your options are.
In many states—including Texas, Colorado, and California— utility companies WILL NOT cut off power and water during this crisis. Check with your local government or local utility company. You can also call the utility company's billing department and work out a payment plan.
If you're unsure what your rights are as a tenant or what your other options are, call 211 to get advice from a professional.
We Will Get Through This
I know these are scary times, and it's hard to imagine an end to it. I find myself avoiding thinking about the future. But while putting this piece together, I was blown away by the selflessness of others, by how the freelancer community is banding together to buoy each other up.
Is this list missing something? Comment below if you have another resource for getting help as a freelancer during the COVID-19 pandemic!