When I switched from a sole proprietorship to an LLC in 2019, one of the biggest hurdles I hit was figuring out how to fill out a W9 as a single-member LLC.
*Disclaimer: I am not a tax professional, so the following is not tax advice. Please seek the advice of an accountant or other qualified professional.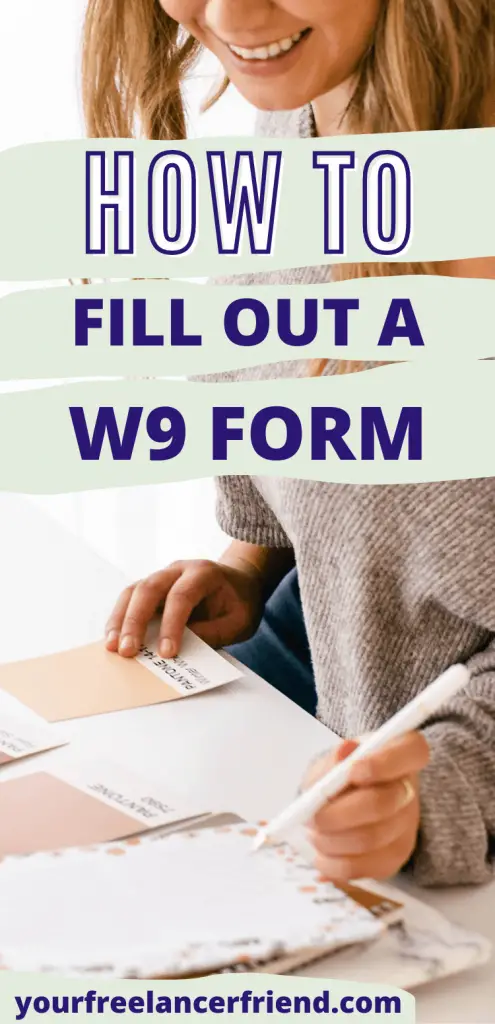 Which Name to Put on Line 1
As a single-member LLC, you should put your first and last name on Line 1 of the W9—not your LLC name.
Which Name to Put on Line 2
As a single-member LLC, you should put your LLC name on Line 2.
Which Box to Check on Line 3
As a single-member LLC, you are automatically categorized as a "disregarded entity" and thereby taxed by the IRS as a sole proprietor. UNLESS you elect to be taxed as a corporation, you will check the box that says "Individual/sole proprietor or
single-member LLC."
Should I Put My SSN, Sole Prop EIN, or LLC EIN on Part 1 (Taxpayer Identification Number)?
Shockingly, I couldn't find any agreement on whether to use:
My Social Security Number (SSN)
My sole prop's Employee Identification Number (EIN)
Or my new LLC EIN
Here's the deal: When you are a sole proprietorship, you can fill out W9 forms using your SSN. But it is recommended to apply for an EIN anyway because it's better to give out the EIN on a W9 form than your SSN.
To further complicate matters, when you form an LLC, you can apply for a new EIN for the LLC (which is separate from your sole proprietorship).
And then to really complicate things, in the eyes of the IRS, a single-member LLC is a sole proprietorship because you default to a "disregarded entity" (unless you elect to be taxed as a corporation).
So that leaves that burning question: Which number do I use on my W9s if I'm a single-member LLC?
The answer is not so simple.
I asked more than a DOZEN accountants that very same question, and the answers varied. The most COMMON answer was that you should use your LLC EIN.
But…I don't think that's technically the right answer.
If you follow the rules set forth by the IRS, you should use your SSN or your sole proprietorship's EIN, not your LLC's EIN.
Want proof? Here are the EXACT instructions that are printed on the IRS W9 form: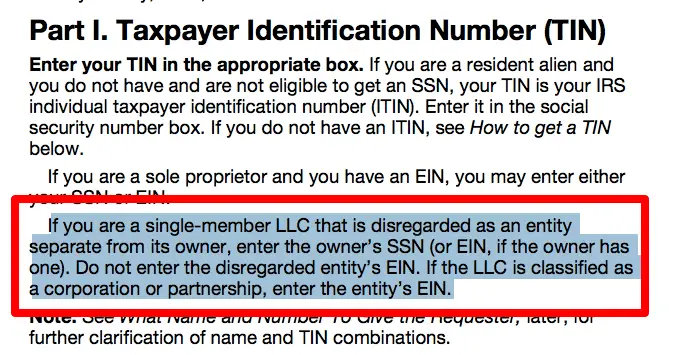 It says, and I quote:
If you are a single-member LLC that is disregarded as an entity
separate from its owner, enter the owner's SSN (or EIN, if the owner has one). Do not enter the disregarded entity's EIN. If the LLC is classified as a corporation or partnership, enter the entity's EIN."

https://www.irs.gov/pub/irs-pdf/fw9.pdf
But when I confronted accountants about this, almost ALL of them said, "Yeah…but no one really does that. All my single-member LLC clients use their LLC EIN, and we've never had any problems."
My CPA advised me, however, that I should strictly follow the IRS's rules and put my SSN or sole prop EIN because if I were ever to be audited, saying, "I followed the IRS rules as printed on the W9 form" is a much better defense than saying, "Well, everybody else is putting their LLC EIN."
Personally, I put my sole proprietorship's EIN on my W9s now that I'm a single-member LLC. But when I opened my LLC bank account, I gave the bank my LLC EIN. I know, I know. So complicated.
In the end, it's up to you. But please speak with a qualified accountant to decide what to do based on your situation.
Learn more about LLCs in these posts: